American Indian Artifacts in Northeast Austin
---

An Austin resident who lived near the intersection of Yager and I35 in the 1920s onward has stated that in our area of Austin there used to be "arrowheads everywhere." He said that he thinks these arrowheads have mostly been found. There have been other discoveries of Native American artifacts in the area. (L. Fox, personal communication, 2001)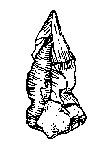 This is an arrowhead found in Walnut Creek Park in approximately 1980. Other arrowheads may be seen here.



The best known discovery is probably Walnut Creek Park, where a 1980 study unearthed several artifacts including arrowheads, larger stone tools, and a hearth. See Walnut Creek District Park-area History. This document also mentions that some area residents, the Cearlys, recalled tales that a group of Tonkawas were once maintained by the Army during the early 1850's on the south side of Walnut Creek near where the present high power lines cross it. The document says that a recent surface search of the location produced no evidence to support the tale and no confirmation of such activities in the vicinity has been found in the historical records. The same document mentions that a Native American hearth was once excavated just east of North Lamar near Jetta Court. Jetta Court is a residential street north of Walnut Creek Park, south of Yager, and a short distance east of North Lamar.

In the River Oaks neighborhood just to the north of Yager, a street named Indian Mound intersects North Lamar. One long-time area resident, Travis Kruger, has said that the site is the location of an Indian Mound. I have not been able to find information on this site, but it is interesting to note that this street seems to be the only one in the area that is on the City of Austin Protected Streets Under Utility Excavation Moratorium

If you have the opportunity, you may want to search for these artifacts before continuing development covers them over for good.

See Help if you would like to help us find more information on this topic.


---
Return to Copperfield History Page
---
---
---
---
---
---